Megumi Sagano
Class
2-C
Gender
Female
Seiyuu
Horanai Ai
English
Caitlin Glass
Megumi Sagano is the official matchmaker in the school. According to her, she has managed to set up ten couples together in the past year, a new record for her. None of these ten couples appear to have actually shown up in the anime or the manga, although it's possible the Madoka Kido and Shigeo Umezu pairing is one of the ten. She is also the bassist for Class 2-C's band and likes to play basketball.
Personality
Edit
Being the class matchmaker, Megumi loves to gossip about other people's love affairs. Most recently (in the anime), she was interested in Eri Sawachika relationship with a certain delinquent. From her appearances so far, she shows a very open and outgoing character.
Relationship
Edit
Best Friends
Edit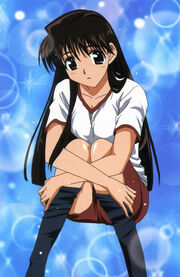 Ooji Karasuma, Takeichi Fuyuki, Tsumugi Yuuki, and Karen Ichijo: These four play in the band together with Megumi. She regularly has lunch with Karen, Yuuki, and class rep Mai Otsuka.
Community content is available under
CC-BY-SA
unless otherwise noted.