Kozue Mihara
Birthday
December 2nd
Class
2-C
Gender
Female
Seiyuu
Madoka Akita
English
Kira Vincent-Davis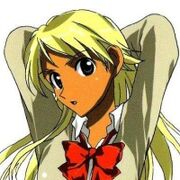 Kozue Mihara is the only Kogal (fashionable high school girl with tanned skin) character in School Rumble. Kozue is perhaps the trendiest girl in Class 2-C. She is pretty good in sports, thus her appearance in the girl's relay.
She seems to adopt the Kogal look only partway through the series.
Relationships
Edit
Best Friends
Edit
Saeko and Kozue are usually depicted gossiping in the hall.
Love Interests
Edit
Kozue enjoys flirting with Imadori, though it's not clear how serious her attraction to him is.
Because Imadori is constantly pestering Mikoto, Kozue is a little annoyed with Mikoto.