Karen Ichijo

Karen Ichijo
Age
16
Birthday
January 7th (Capricorn)
Relations
Kosuke Ichijo (brother)
Class
2-C
Height
160 cm
Blood Type
A
Hair
Green
First Appearance
(Manga)
Chapter 47
First Appearance
(Anime)
Episode 14
Seiyuu
Yuuka Nanri, MAKO
English
Carrie Savage
Karen Ichijo is one of the quieter girls of 2-C, but her appearance is deceiving and she is one of the strongest girls in School Rumble, rivaling both Mikoto Suo and Lala Gonzalez in strength and athleticism.
Ichijou's story focuses mainly on the relationship between her and Kyosuke Imadori, and her major contribution to 2-C's victory in the Sports Festival.
Ichijou first debuts in Chapter 47 of the manga and episode 14 of the TV series (she had a very minor role in Ep. 7). She appears on the cover of manga Volume 5. She has her own image album at no.6, and is the lead singer for Class 2-C's band.
One of Ichijou's defining features is her supernatural strength. She is able to lift a piano by herself, and crush an apple with one hand.
Her strength comes from her constant training in the art of wrestling. She is in the wrestling club along with Kozue Mihara and Lala Gonzalez. Her wrestling skill is only rivaled by Lala at this point. Ichijou is also able to perform several pro-wrestling move, including the famous German Suplex, and her own version of the Frankenstein, called Nymph's Dance. For a list of Ichijou's combat moves, as well as moves by other characters, go to the SR Combat Guide page. Oddly enough, Karen does not consciously use these moves. Instead, whenever she is challenged, her body reacts on it's own. After completion of the move, Karen returns to her normal self, and often apologizes to whoever was on the receiving end of whatever devastating move she just preformed.
Ichijou's athletic talent does not end at just wrestling. Along with Haruki Hanai, she forms the most formidable Kibasen Team at the Athletic Meet . Here, Karen displays excellent agility and dexterity by climbing the 2-A pyramid with ease in order to get their rider's headband, then nimbly returning to her mount. The combination of these two enabled the class of 2-C to snatch victory from their rivals, the class of 2-D. She also joined the newly-formed girls' basketball team, though it's unclear whether she remained a member after the Basketball Arc, or if, like Mikoto Suo, she retired from basketball following the team's first match.
Ichijou can also sing very well, even in English. She is the lead singer for Class 2-C's band.
One talent she has not mastered, however, is getting Kyosuke Imadori's attention, since Imadori mainly cares about large breasts. She is also very self-conscious and introverted, blushing when complimented on her figure (Sagano does this in the bath house S2 Ep 4).
Personality
Edit
Karen is very shy and caring, but also very responsible and hard working. In Ep. 7, she is the only student who cares about doing the job they were assigned (cleaning the pool). She also works for a moving company, where the manager refers to her as Ichi-san. While this sort of work perfectly suits her strength, it causes her to feel less feminine, in that she can often outlift the guys (as seen in Ep. 14). Her shyness often causes her to be less self confident in personal affairs, but she tries hard.
Her caring for others is seen in several places as well. In Ep. 18, during her date with Kyosuke Imadori, she saves him from Noboru Tennoji by crushing an apple with her bare hand in front of him, scaring the big goon off. Saving Imadori has become somewhat of a theme for Karen, since recently, Karen has been saving Imadori from the assaults of Lala Gonzalez, who can't stand the "banana-otoko". After her date with Imadori, Karen is seen comforting a depressed Tenma Tsukamoto, who is incidentally depressed because she found out Imadori doesn't like Karen in a romantic way. Nevertheless, Karen is kind to Tenma, and tells her it's ok. Still another example of her caring is seen in the Survival Game, where she refuses to shoot at Mikoto Suo out of fear of hitting her friend and teammate Megumi Sagano.
Having a quiet and shy personality, Karen is often not confident or even aware of the great ability she possess. She is a great wrestler, but really doesn't think so. She is also very shy, especially around guys, which makes it all the harder for her to approach her love interest, Kyosuke Imadori.
Relationships
Edit
Love Interests
Edit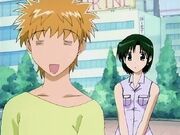 It is unknown why Ichijou would like a playboy like Imadori, but maybe it's because Imadori is the first person to treat Karen like a girl, albeit for personal reasons (Imadori offered to move some boxes for Karen, but only because they were lighter). Yet she tries hard everyday, from taking Tenma's advice, to dressing differently to get Imadori's attention. Although her shyness and her lack of breasts seem to deter his interest, he seems to truly care, getting her out of difficult situations. She is in love with and has a hard time confessing to Imadori, trying to find just the right moment, usually predicaments that leave Imadori frightened. In School Rumble Z, it seems her love for him deteriorates and which frustrate her to the point of being brought to tears. Her friends assure her that he will give her a ring, although Imadori misunderstands and gives her a wrestling match, where she ends up winning. Unfortunately, she is again brought to tears because she feels like everything is slipping away, but Hanai stops her and Imadori gives her a ring commenting on how she's a beautiful winner, which makes her smile. It is unknown if this means that they're engaged as the timing of the event is still somewhat unknown.
Kosuke is Karen's younger brother. Imadori came over to Ichijou's house to play Dojibiron with Kousuke once, much to Ichijou's agony (Imadori was caught rummaging through her drawers and other private artifacts).
Karen's Mother
Edit
Karen's mother, who hasn't appeared, but confirmed by her.
Best Friends
Edit
With Karen, these four make up class 2-C's band. They practice a lot for the Cultural Festival, and even make grand costumes very similar to the Beatles' Sgt. Pepper costumes. Karen also eats lunch often with Yuuki, Megumi, 2-C representative Ootsuka Mai, and Lala Gonzalez.
Karen is also good friends with Tenma, largely because Tenma helped Karen address her feelings for Imadori. She provided Karen with both supplies and acted as a substitute for Karen's wrestling match so that Karen could go out on a date with Imadori.
Ever since Lala was caught off guard by Ichijou's German Suplex, the two form both an inseparable bond of friendship and rivalry. In fact, Lala is one of Ichijou's best friend, and the same can be said for Lala. Yet on the sports field, the two are archrivals, from the Sports Festival to wrestling. The two worked at WAS Burger for the summer as well.
Although they are normally friendly towards each other, Karen and Mikoto are fierce rivals when it comes to athletics. So far, neither has been shown to be superior to the other, for although Karen won the Kibasan match, Mikoto bested her in the Survival Game. Karen doesn't really like that Imadori loves Mikoto and not her.
Since Mihara also likes Imadori, she and Karen could be considered rivals in love, though the characters are never actually depicted as being in conflict.
Her first name, Karen, is written in hiragana (かれん), which has no special meaning.
The kanji for Karen's surname Ichijo means "one" (一) (ichi) and "paragraph" (条) (jou).
Community content is available under
CC-BY-SA
unless otherwise noted.